Integrate CalendarHero with Hangouts Chat to access your CalendarHero automated assistant using natural language. Chat with your very own AI-powered meeting assistant. Schedule meetings, simplify meeting prep, and get more done fast without leaving Google Hangouts Chat. For example, you can quickly schedule meetings right from Hangouts Chat by asking "Book a meeting with Tom next week."

Quick overview for adding CalendarHero to Hangouts (or scroll down for more details/screenshots)

Learn more about scheduling meetings in chat

With CalendarHero for Google Hangouts, you can:

✓ Automate meeting scheduling without the back-and-forth (1:1 & group meetings)
✓ Instantly schedule internal team meetings
✓ Automatically book meeting rooms
✓ Learn more about your meeting attendees with people insights
✓ Always be prepared with automated meeting briefings
✓ Quickly access information & sync meeting details with your ATS or CRM
✓ Easily find information & generate documents
✓ Connect 60+ integrations like Hubspot, Greenhouse, and more
Learn more about what your CalendarHero Assistant can do
---
Not sure which Google chat platform you are using?
Back in 2015, Google announced it would be discontinuing Google Talk (also known as "Gchat") and instructed users to migrate to the Google Hangouts app on the Chrome browser. As part of this transition, Google stopped supporting bots on Gtalk. As of 2019 Google is once again transitioning users from classic Hangouts to their latest chat platform - Hangouts Chat.
We recommend using CalendarHero with Hangouts Chat. As required by Google - you will need a Gsuite account to use Hangouts Chat.

Screenshot of CalendarHero in Hangouts Chat (App)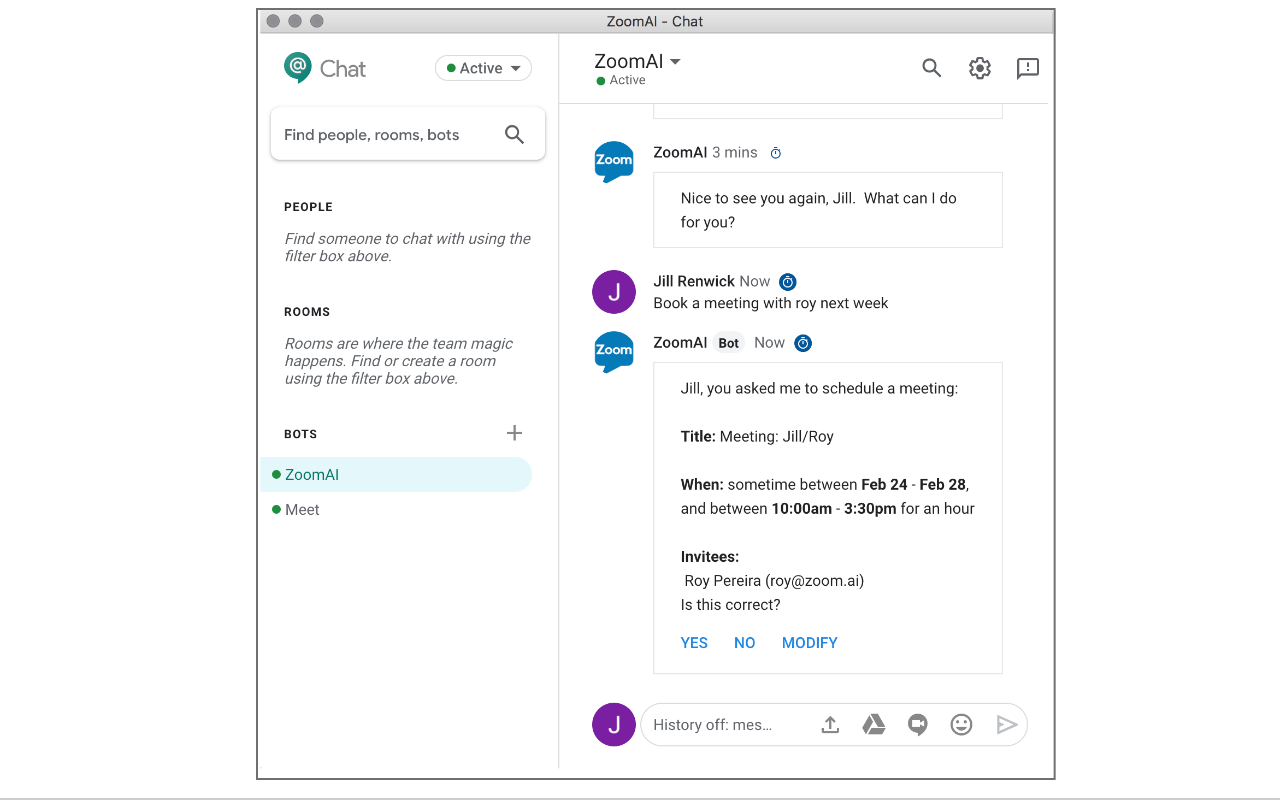 ---

Setting up CalendarHero on Google Hangouts Chat


If you haven't already - register for your CalendarHero account here: Get Started with CalendarHero
Next, open Google Hangouts Chat (either in the desktop version or in your browser via https://chat.google.com/). If you are not signed into Google, sign in. Note: You need a G Suite account to access Hangouts Chat.
Click on the Hangouts Search box and select "Find a Bot."
Search the bots directory for "CalendarHero" (formerly "ZoomAI"). When it appears select it.
From the CalendarHero listing click "Message." This will add the CalendarHero Assistant to your list of Hangouts Bots. It will appear as "CalendarHero under your Bots list."

If you have already registered with CalendarHero (from our web app) then your assistant should say hi to you in chat.
If you haven't registered follow the instructions provided by your assistant in chat.
Not heard from your assistant? Say hi to get started.

Whenever you want to use your CalendarHero assistant in Hangouts chat simply click on the CalendarHero and chat with your assistant! It's that easy. Learn more about scheduling meetings in chat.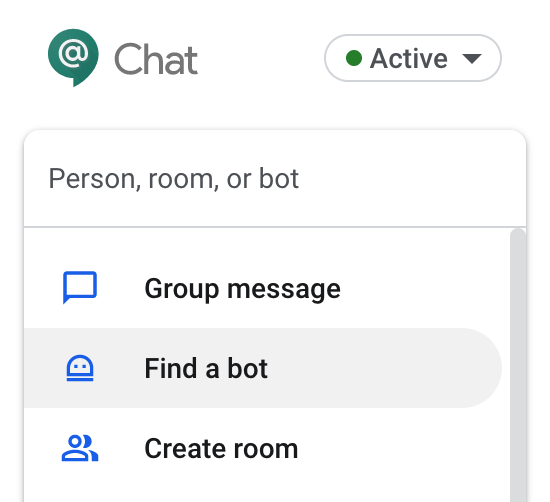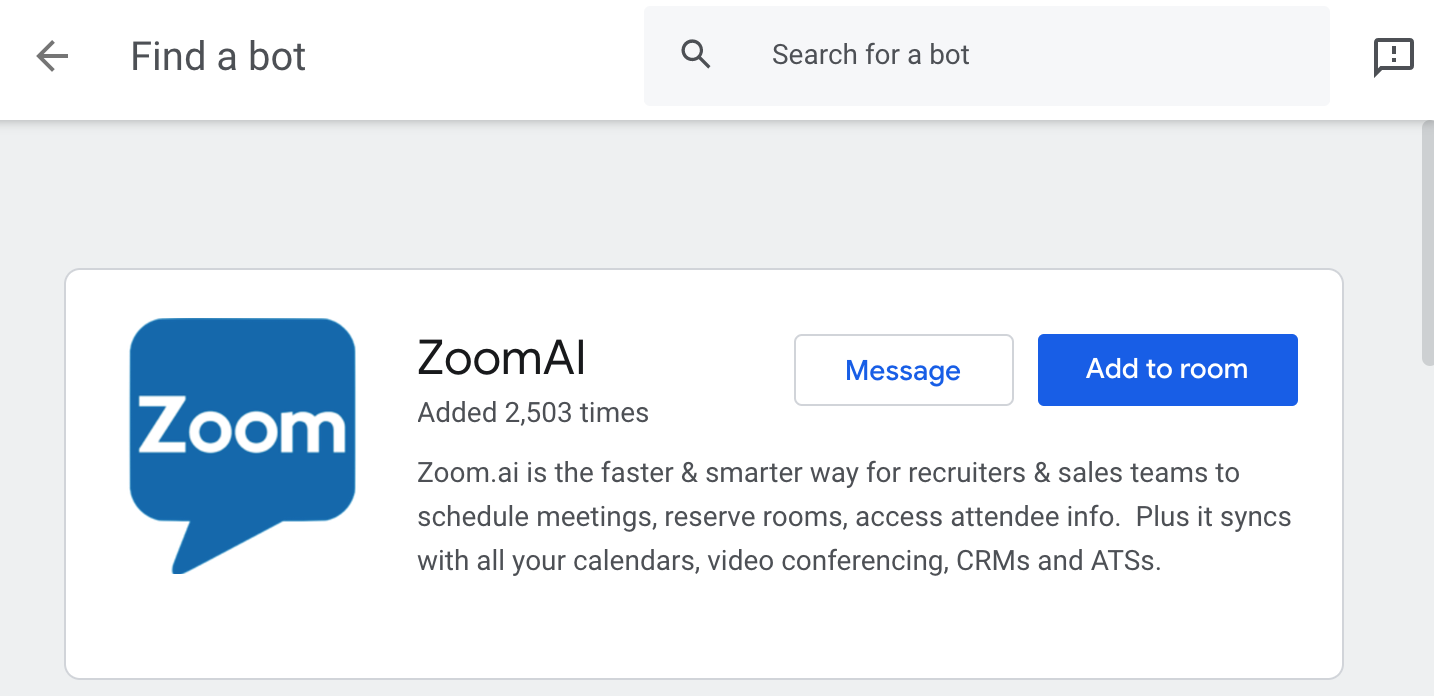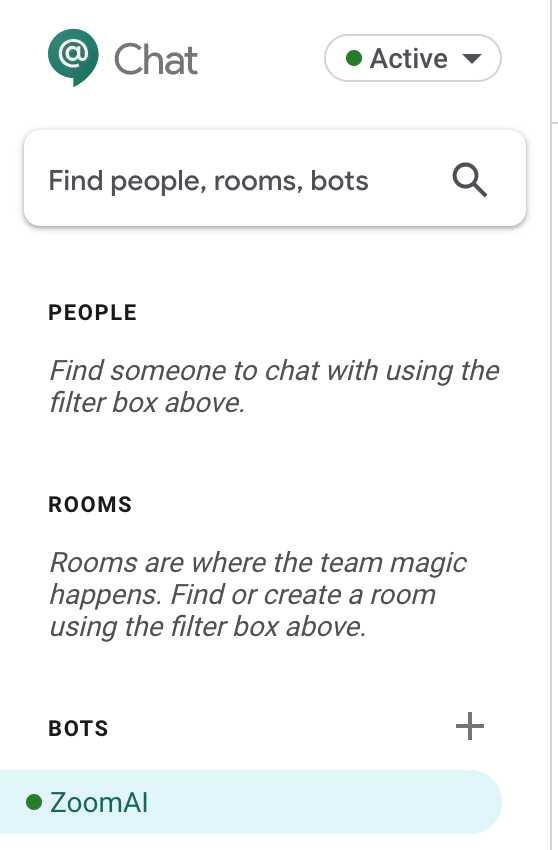 ---
Removing CalendarHero from Google Hangouts Chat
If you need to remove CalendarHero from Hangouts Chat simply mouse over the CalendarHero (formerly "ZoomAI") listing under "Bots" click the "..." menu and select "Remove."