CalendarHero is super flexible and built to connect intelligent, powerful meeting scheduling to your favorite apps. CalendarHero integrates with over 60+ applications, including your favorite calendar, contacts, file storage, chat platforms, email, video conferencing, meeting room providers, CRM, ATS, and customer experience platforms.
CalendarHero is built with flexibility in mind so we're continually adding new integrations. Let us know if we are missing any you would like to see!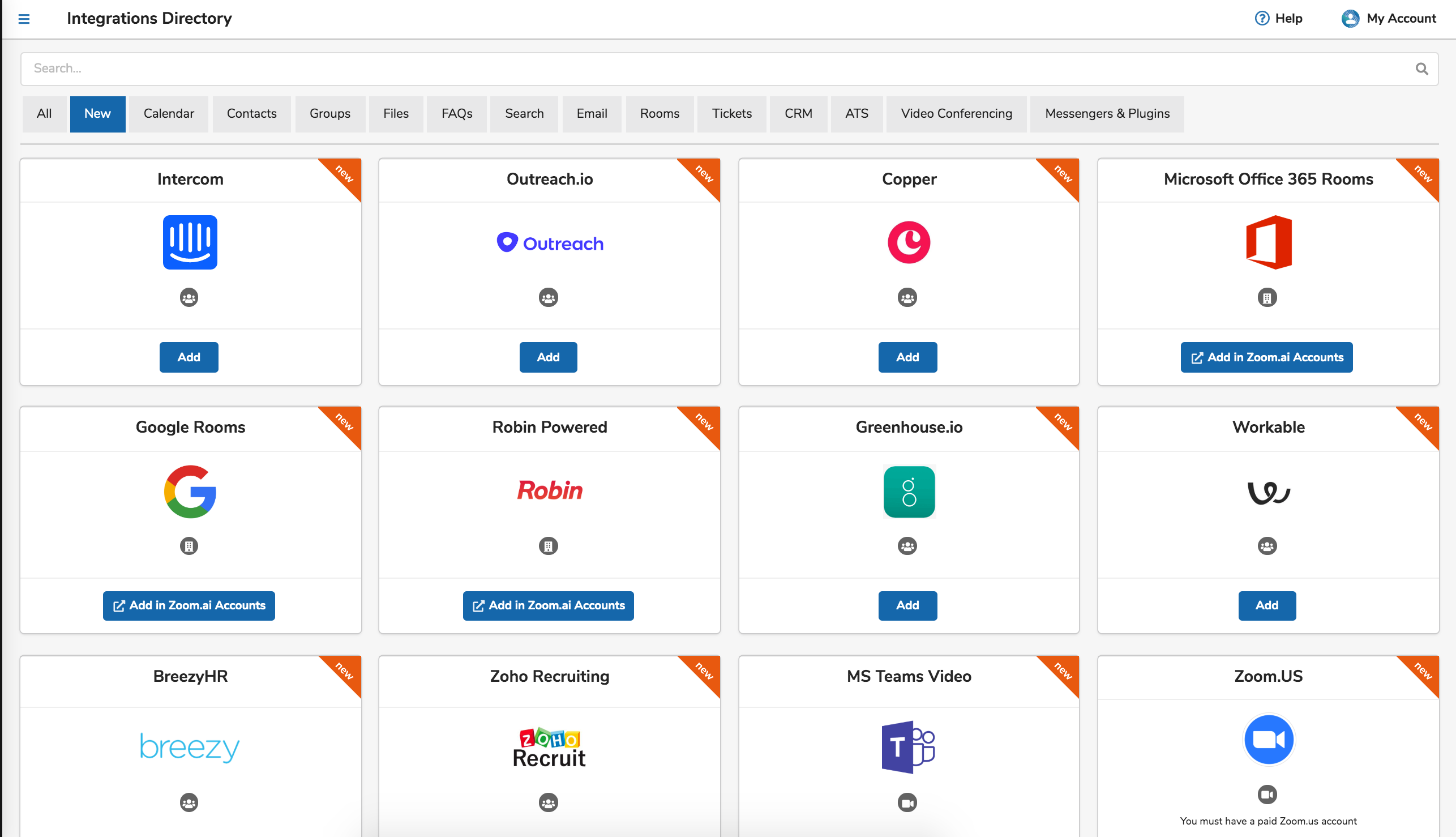 Add New Integrations
Whether you want to add Slack, Hubspot, Zoom.us, or Mailchimp - CalendarHero makes it easy with our Integration Directory. Most integrations take less than five minutes to add and require only a click or two to get set up!
---
Integration Legend

Each Integration includes a legend representing the type of integration that it supports. For example:

Calendar integrations are a core integration required by CalendarHero. Your "Default" calendar will be used for scheduling your meetings (e.g. booked meetings will appear in this calendar). Other (non-default) connected calendars will be used to check your availability only.

Contact integrations import your contacts so you can easily schedule meetings with them
-

Group integrations import your groups of users/contacts so that you can schedule meetings with a group

Video integrations can automatically add a video conference to your meetings when scheduling in CalendarHero

Room Booking integrations are used to reserve a conference room when you schedule a meeting

Plugins and extensions integrations allow you to use CalendarHero inside your inbox, browser, or Zapier

Payment collection integrations allow you to collect payment when a user schedules a meeting with you.

CRM integrations allow searching CRM information, pushing meeting information to relevant CRM objects, and add in CRM information to meeting briefings

ATS integrations allow you to synchronize candidates and push meeting information into your ATS

Search integrations can be searched for many types of objects (files, events, deals, ...) using Unified Search

File integrations are used in Unified Search and Document Generation

FAQ / Knowledge Base integrations allow you to search the knowledge base in Unified Search and in chat
---
Team Admins: Restricting Integrations

By default Team plan members can add any integration available in their individual Integration Directory. If your organization would prefer to restrict access then the Team Admin can hide specific integrations.
To restrict access:
Go to the Team Admin - Settings Integrations tab (https://app.calendarhero.com/org/settings)
To disable specific integrations select "Some" and then deselect the integration from the list.
Click "Save" to apply the changes.
Important:
Restricting an integration will hide that integration from appearing in the members' integration directory only. Other Team Admins can still enable corporate-wide integrations.
If an integration was already added (before it was restricted) then it will still appear in a member's Installed Integration list, however, the member will no longer see it in the Integration Directory.
If there are no integrations available for team members, the category will show the message: "Integrations in this category have been disabled for your organization by your Team Plan Administrator."