Integrate CalendarHero with Slack to access your automated assistant using natural language. Slack makes it easy to chat with your very own AI-powered meeting assistant. Schedule meetings, simplify meeting prep, and get more done - without leaving Slack. For example, you can quickly schedule meetings right from Slack by asking "Book a meeting with Tom next week."

With CalendarHero for Slack, you can:

✓ Automate meeting scheduling without the back-and-forth (1:1 & group meetings)
✓ Instantly schedule internal team meetings
✓ Automatically book meeting rooms
✓ Learn more about your meeting attendees with people insights
✓ Always be prepared with automated meeting briefings
✓ Quickly access information & sync meeting details with your ATS or CRM
✓ Easily find information & generate documents
✓ Connect 60+ integrations like Hubspot, Greenhouse, and more

Learn more about what your Assistant can do
---

How to Set up CalendarHero on Slack
Click the "Add to Slack" button on this page
Select a slack.com team
Since CalendarHero is also supported in channels, select a channel (you don't have to chat with your assistant here, but can choose too)
Go to the Slack apps section and search for 'CalendarHero'
Add CalendarHero Meeting Assistant
From Recent Apps send a DM (private message) to 'CalendarHero'
Follow the instructions and start scheduling!
Tip! If you don't find your "Meeting Assistant" located in the Slack 'Recent Apps' - click on 'Apps' and do a quick search for "Meeting Assistant".
---
How can I communicate with my assistant on Slack?

Once you have installed CalendarHero in Slack simply click on "CalendarHero" (under 'Recent Apps' in Slack) and directly message your assistant. Your assistant should respond to any direct message - you and your assistant will be having a private conversation.

CalendarHero is one of the only scheduling platforms with advanced natural language for meeting requests. This means instead of using limited "/commands" you can ask your Meeting Assistant in natural language to schedule meetings for you. For example - say to your assistant: "Book a meeting with Mary and Sam next week for 2 hours." Learn how to schedule meetings in chat (using Slack)
Not sure what else you can do with your CalendarHero app? Say "Help" to your assistant.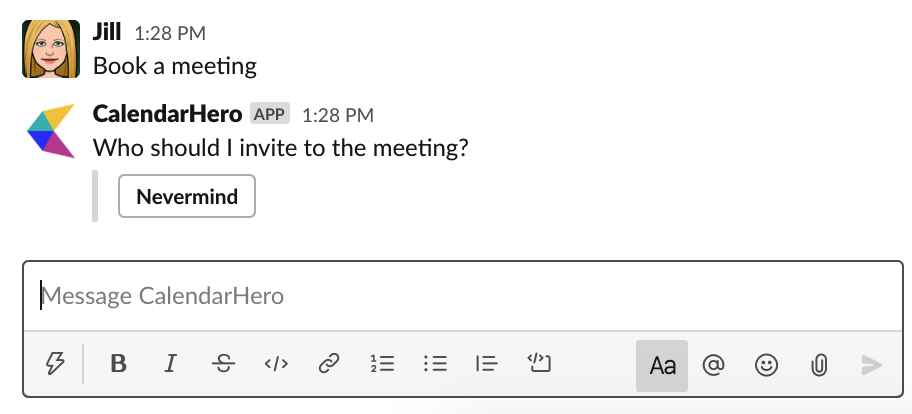 If you don't find CalendarHero located in the Recent Apps section

Click on "Apps" and do a quick search for "CalendarHero. Click on the CalendarHero listing - and it will be added to your Slack Recent Ap
Chatting with your Assistant in a channel

In a shared channel, try typing "/invite @CalendarHero" in the channel and this will add CalendarHero so that you can communicate with your assistant there as well.
It's important to note that if you want to chat with your Assistant in a channel you will need to include "@CalendarHero" before every request or reply so your assistant knows you are talking to them. This isn't necessary if you chat with your assistant directly (by selecting "CalendarHero" under your recent apps) so we recommend using the direct method.
Note: While you can chat with your assistant in a channel (and of course directly under Apps), it cannot be added to a DM (Direct Message)

---