Traditionally, when you schedule a meeting outside of CalendarHero there tend to be back-and-forth emails with the meeting creator and the attendees to find a time that works for everyone. The power of the CalendarHero Meeting Scheduling is that we take care of finding the best time for you (while you focus on more important things... like all that other work you need to get done!).
When you make a meeting request you are not required to specify a time/date range, unless there are time restrictions when the meeting has to happen. For example, if you need to meet to make a decision before taking your next course of action, and there are business timelines guiding the meeting. This is actually one of the hardest things about scheduling a meeting with a group of internal stakeholders and external clients who are all busy. Luckily, CalendarHero is built to find the best time within your required time range (while always syncing with your calendar for real-time availability).
The Date Range option allows users to limit the date range offered to invitees. For example if "3 weeks" is set, invitees will only be shown the next 3 weeks of your calendar availability (on the meeting acceptance page) - and will not be able to book a time past that date range.
This is particularly useful if your meeting is time sensitive - and needs to happen in the immediate future. If your meeting is NOT time sensitive we recommend setting a longer date range to help ensure everyone can find a mutual time to meet; especially if you're scheduling a meeting with a group of busy stakeholders.
---

Setting a Default Date Range

By default, the date range for all meetings is three (3) weeks. However, this default can be easily customized for each Meeting type. This allows users to easily create different meeting types with different date ranges.

For example, you can create a meeting type with a "this week" date range for scheduling candidate interviews (to ensure your candidate schedules a time this week), and a meeting type with "next 3 weeks" for scheduling meetings with busy sales prospects.
Date Range works in conjunction with the other meeting types' availability options - such as Availability Window and Lead Time - to allow you complete control over how your availability is offered to your meeting invitees.

To customize the default date range:

Simply open your Meeting Type (or create a new one) and under "Availability" update the Date Range using the drop-down menu.

Once your default date range is set, this setting will be pre-selected as part of the time frame offered for an associated meeting.

When used with your Personal Scheduling Link the Custom Days and "Next..." options are always a rolling range. For example, if you set the "Next 3 weeks" then CalendarHero will offer your invitee 3 weeks from the date an invitee clicks on your scheduling link to find a time. If you send a meeting request then the date is from when you initiate the meeting request.
Custom Days - Set a custom number of rolling days - e.g. Next 7 Days. The 'Next x days behave like today + x days.

Custom Dates - Set a custom range by selecting specific dates - e.g. Apr 1st to April 30th. Keep in mind that once your end date has passed, invitees will no longer be able to schedule a time.

Next - Set a rolling range using the existing dropdown options - e.g. "Next 7 days," "Next 3 Weeks," "Next 2 Months."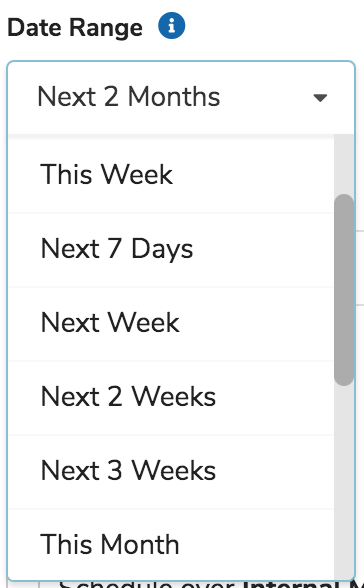 Please note that "This Month" will only show the current month (Eg., if it is the end of the month your invitees will only see 1 day). For a rolling month range use a custom date range set to 30 days

---

Customizing the Date Range per meeting

When you schedule a meeting using the web scheduler the Time Frame section (on the "Details" tab) will be pre-set with the Date Range from the associated Meeting Type. If needed this default Date Range can be overridden for individual meetings. To update simply use the date selector to customize the range offered to your invitees (e.g. Jan 27 - Feb 21.)
In a hurry? Use the shortcut keys ( This Week, Next Week, Next 3 Weeks, Tomorrow, This Month, Anytime) to quickly set a date range for your meeting.
To view the pre-configured Availability Window toggle on "View Availability Window." You can customize the availability window further by clicking on any day and adjusting the time ranges per day.

Learn more about Scheduling Meetings
---

Specifying a Time Frame - In Chat

If needed the default Date Range and Availability Window set at the Meeting type can also be overridden for individual meetings created using chat (such as Slack or MS Teams.)

To specify a specific time range in chat just let your assistant know what time range:
Specify the time frame during which the meeting can occur by typing in a new date range [Oct 10 - Nov 10] - e.g. "Meet with Rachel, Emily, and Joel between October 7th - 15th."
You can specify [next week] or [next month] or [tomorrow] - e.g. "Meet with Jeff and Michal tomorrow."
You can also specify an end time by saying before [before May 1st]
TIP! Lengthen the time frame to increase the chances of finding a time that works for everyone