The CalendarHero Outlook Plugin allows you to quickly schedule meetings - all without ever leaving your Outlook inbox.
NEW! Based on customer feedback, we updated the Outlook Plugin user experience for a faster and more efficient scheduling workflow. This FAQ includes information on the NEW Outlook plugin.
Highlights include:
The power of the web scheduler in Outlook — create & send automated meeting requests from your inbox
Effortless team collaboration — instantly find mutual availability for meetings with team members
Share real-time availability — quickly access scheduling links or insert a preview of available times in an email
These powerful scheduling options will replace our former chat functionality in Outlook, giving users more flexibility over how their meetings are booked. For users who already had the plugin installed, there's no action needed on your part — the new version automatically updated on Nov. 11th, 2021.
Not sure how to access your plugin after it's installed? Scroll down to the bottom of the article for directions.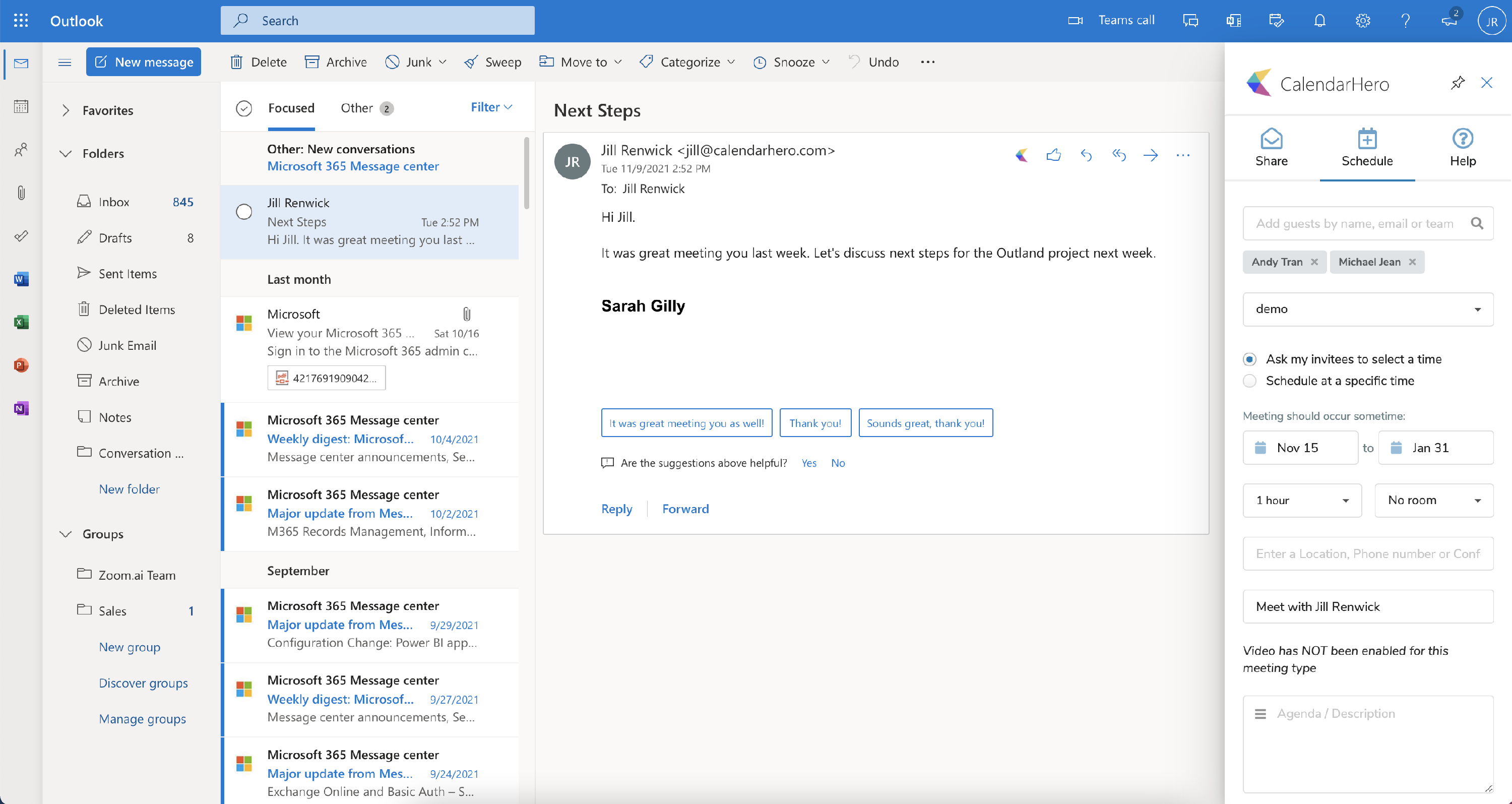 ---

Share Tab
The new Share tab makes it easy for you to share availability directly in any email. Simply select your preferred meeting type and click a button to copy your link or available
Share Scheduling Link: Quickly insert your custom scheduling links into any email so invitees can self-schedule time with you. Simply click the button to copy your link and then paste it directly into any email. Learn More.
Share Available Times: Easily insert a preview of your directly into an email. This preview allows invitees to see a snapshot of your availability. Simply click the button to preview and copy available times and then paste it directly into any email. Learn More.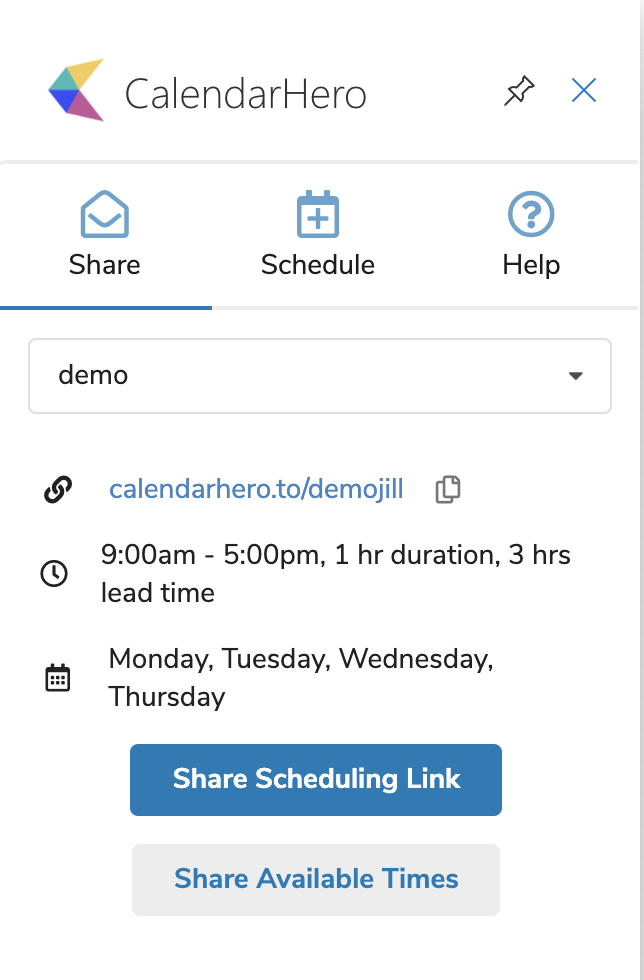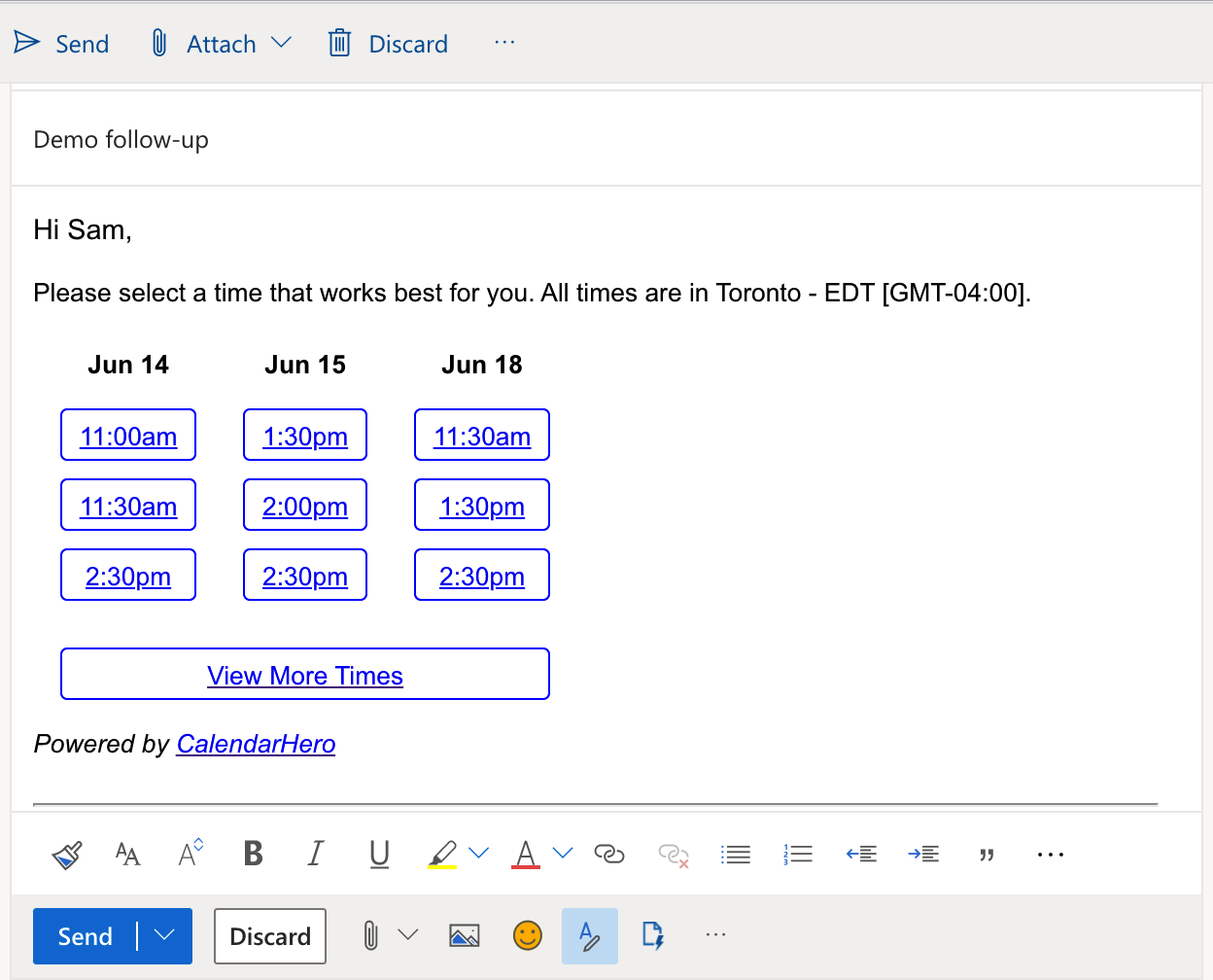 ---

Schedule Tab
The new Schedule tab includes the scheduling power of the full web scheduler in an inbox-friendly format. This means you can create scheduling requests and find out when other members of your team are free right from your inbox.

Simply add guests and select your meeting type - and you can send a meeting request in seconds!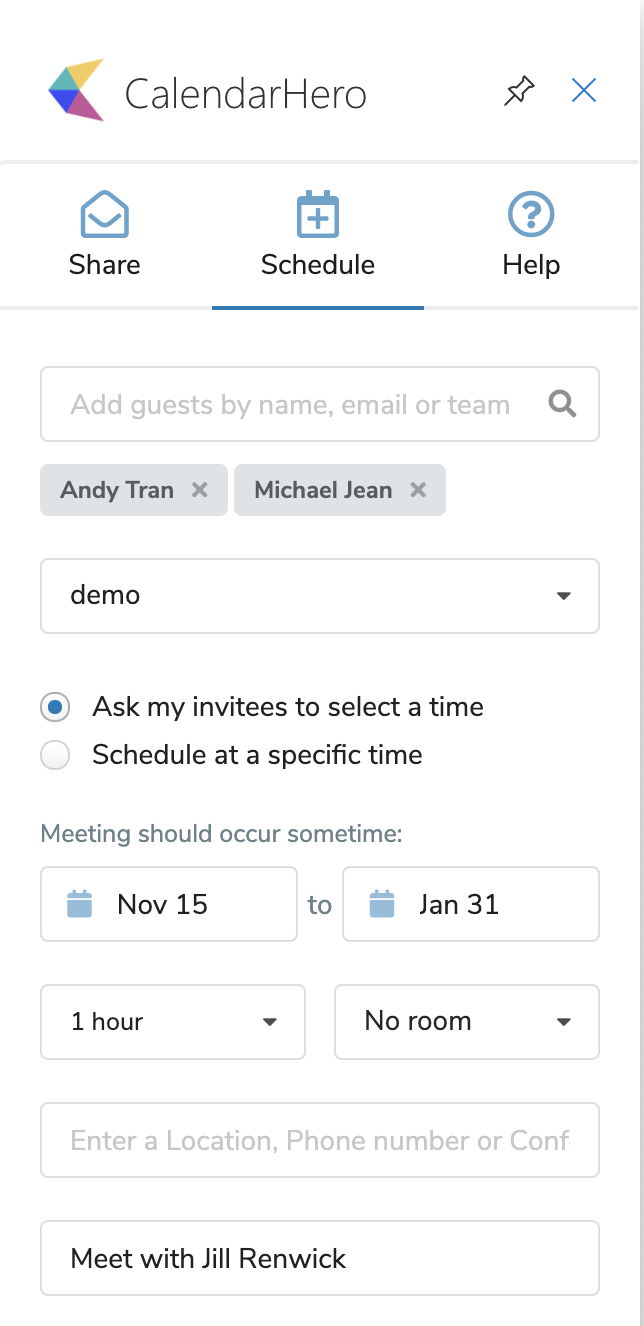 Step 1: Invitees
The web scheduler will first prompt you to select your invitees - e.g. Who should be invited to your meeting?
Simply search by name or email to select from your synced contact list.
The contact field is also context-aware. When you open the plugin or navigate to an email, CalendarHero will automatically add the email contact as a guest so you don't have to. This Connect aware feature is automatically disabled if used in Outlook mailbox versions lower than V.1.5.
Tip! Remember CalendarHero automatically syncs your contacts from your connected platforms, so you can quickly schedule a meeting with them. You can always connect even more 3rd party providers here.
Need to add a new contact? Simply click on the "Add New Contact" button in the dropdown. You will be prompted to enter the individual's name and email.

Step 2: Meeting Details
Next, you can select your meeting type which will populate all associated settings
You can also customize any meeting details, including the meeting title, meeting type, duration, location, and agenda. Learn More
Step 3: Confirmation & Invitations
Before your assistant sends out the meeting invitations you will be able to confirm the details.
If you are using CalendarHero with others in your organization, and you invite only them to a meeting you will be able to quickly select a mutually available time, or choose to let them decide.
Once you are ready to send the invitations you have two choices:
Send Invite: Your meeting assistant sends the invite on your behalf - learn more
Get Invite Link: Copy a private meeting link to send directly to your invitees - learn more about private meeting links

Step 4: Your Invitations have been sent!
If you opted to have your assistant send the invitations on your behalf - then you will see a confirmation and your assistant will take care of the rest.
Meeting invitees will automatically receive an email from your automated assistant asking them to select a time.
---
Help Tab
The Help tab provides easy access to frequently asked questions and product education. It's a great place for a user to learn how to ask their assistant to complete a common task.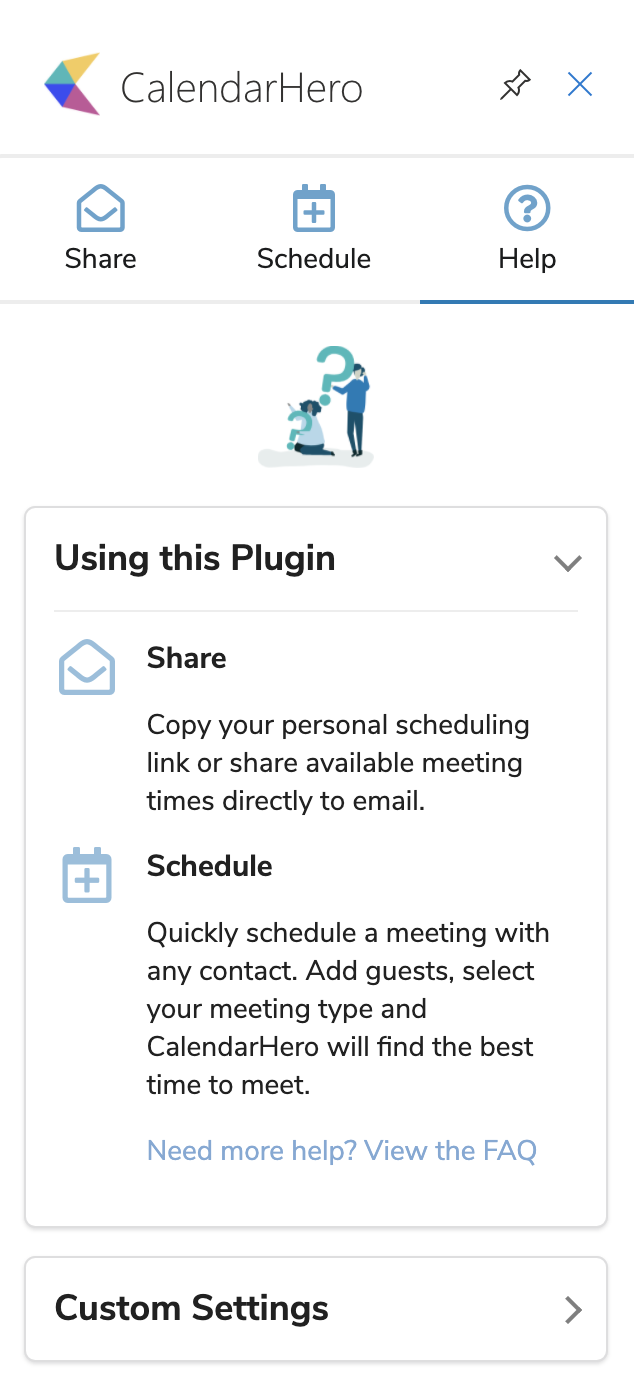 ---

Accessing the Plugin

Outlook Inbox
Once the plugin is installed, you can easily access it from your Outlook Inbox by clicking the plugin button. Click once again to close.
OnClick the plugin will open at right (desktop) or full (mobile)
The plugin button is also available from the Reply screen (below the reply box)
On Mobile (App) the plugin is available under the "…" menu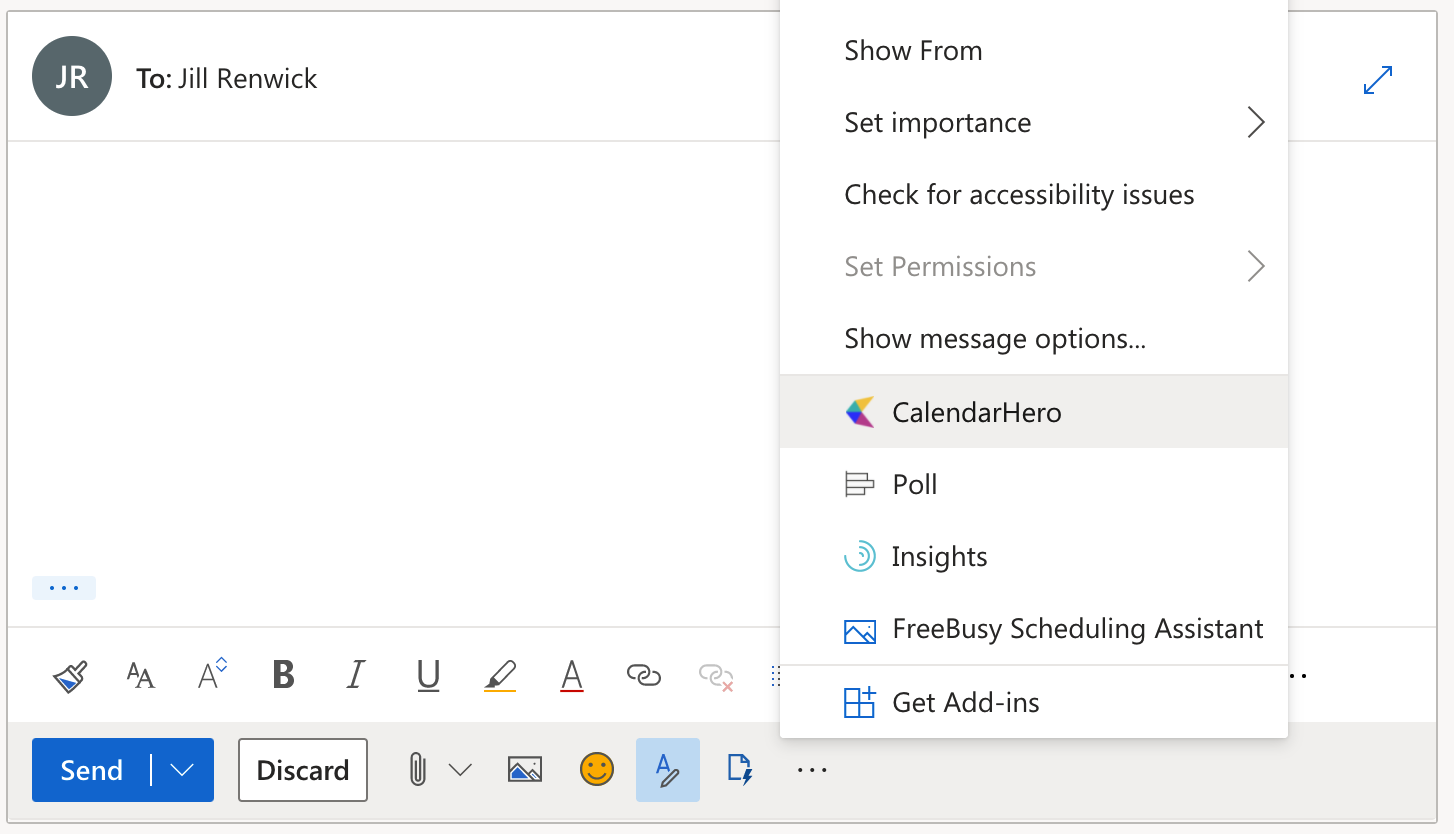 Outlook Calendar
Once the plugin is installed, you can also access it from an Outlook Calendar event view by clicking the "..." button and selecting "CalendarHero."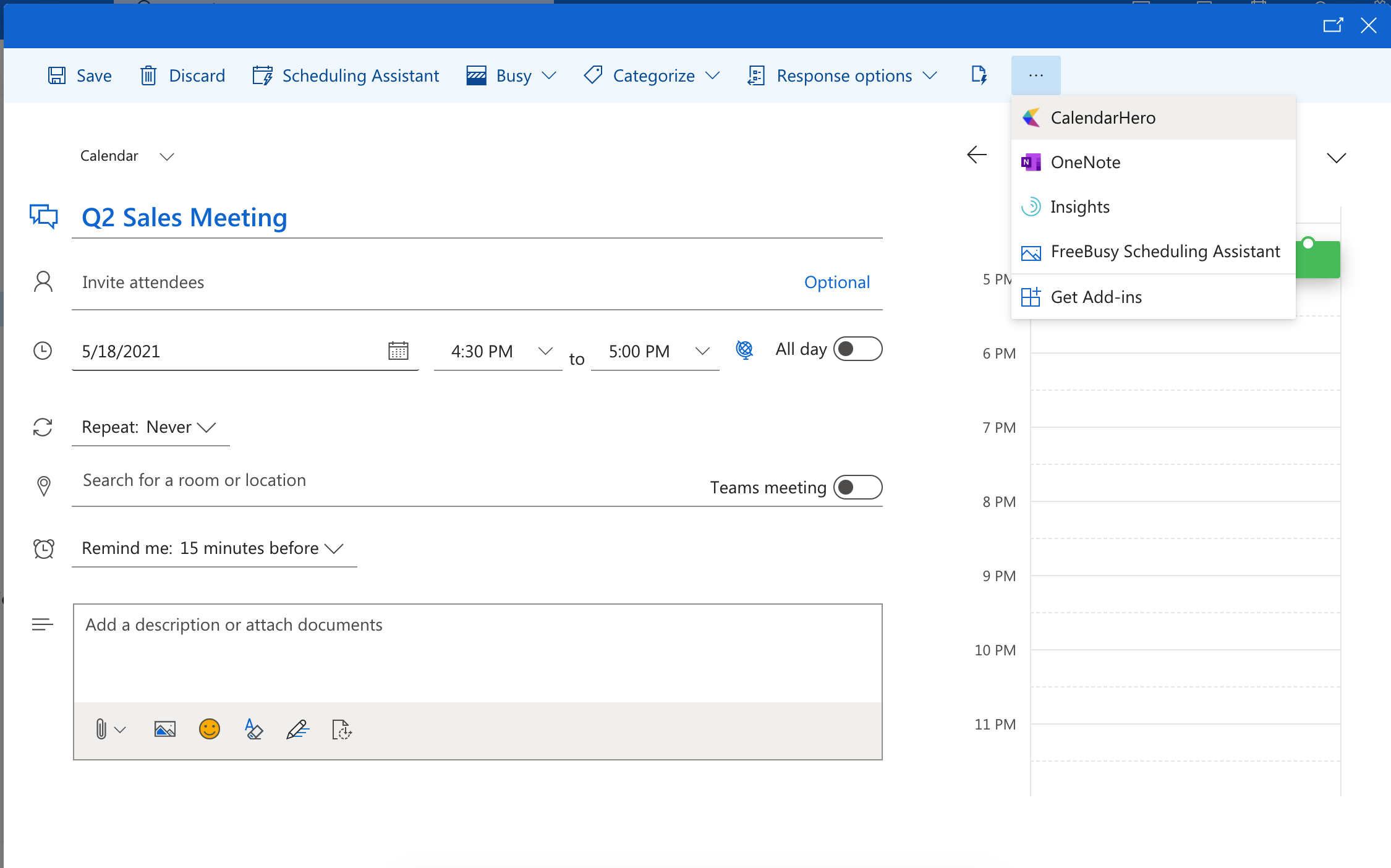 ---

Pinning the Plugin

Once the plugin is open in your Outlook inbox, you have the option to pin the plugin - so that it stays open even as you navigate from one email to another. You can pin/unpin the plugin at any time after installation.