Meeting invitees will automatically receive an email from your automated assistant asking them to select a time. View our FAQ to learn more and view examples...

Before CalendarHero, most meetings required the meeting creator to email back and forth with the invitee to find a mutual time or to simply book a time and hope for the best. CalendarHero is purposely built to add more automation and intelligence to the meeting scheduling process.
CalendarHero includes an easy-to-use booking page (the Meeting Acceptance page) which allows your invitees to select times based on your availability, as well as an intelligent group algorithm that automatically finds the best time for all invitees even in complex group meetings. Therefore unlike some other scheduling software CalendarHero makes it easy to invite multiple internal and external stakeholders to a meeting, intelligently finds the best time to meet based on the requirements you set, and helps ensure that the meeting is booked as quickly as possible!


Here's what happens when you invite your invitees to a meeting via a Scheduled Meeting:
Your meeting assistant automatically sends a meeting invite email to all invitees
The invitee clicks the link in the invite email (or the link you shared) and is taken to the Meeting Acceptance page
The invitee selects a preferred date & time for the meeting
The meeting is booked and all invitees automatically receive calendar invites!
---
Meeting Invite

Once you finish a meeting scheduling request your invitees automatically receive an email from your automated assistant with the meeting details. This email will come from your meeting assistant on behalf of you. The meeting invite email includes a link "Respond to Meeting Request". When clicked it takes the user to the Meeting Acceptance page.
If you prefer not to have the invite come from your assistant then you also have the choice to send your own Private Meeting Link. In this case, your assistant will not send this meeting invite - instead, you will share the link directly. If your invitee is self-scheduling a 1:1 meeting using your Personal Scheduling link then your assistant will also not reach out on your behalf.
Questions? Learn More about Meeting Invite Emails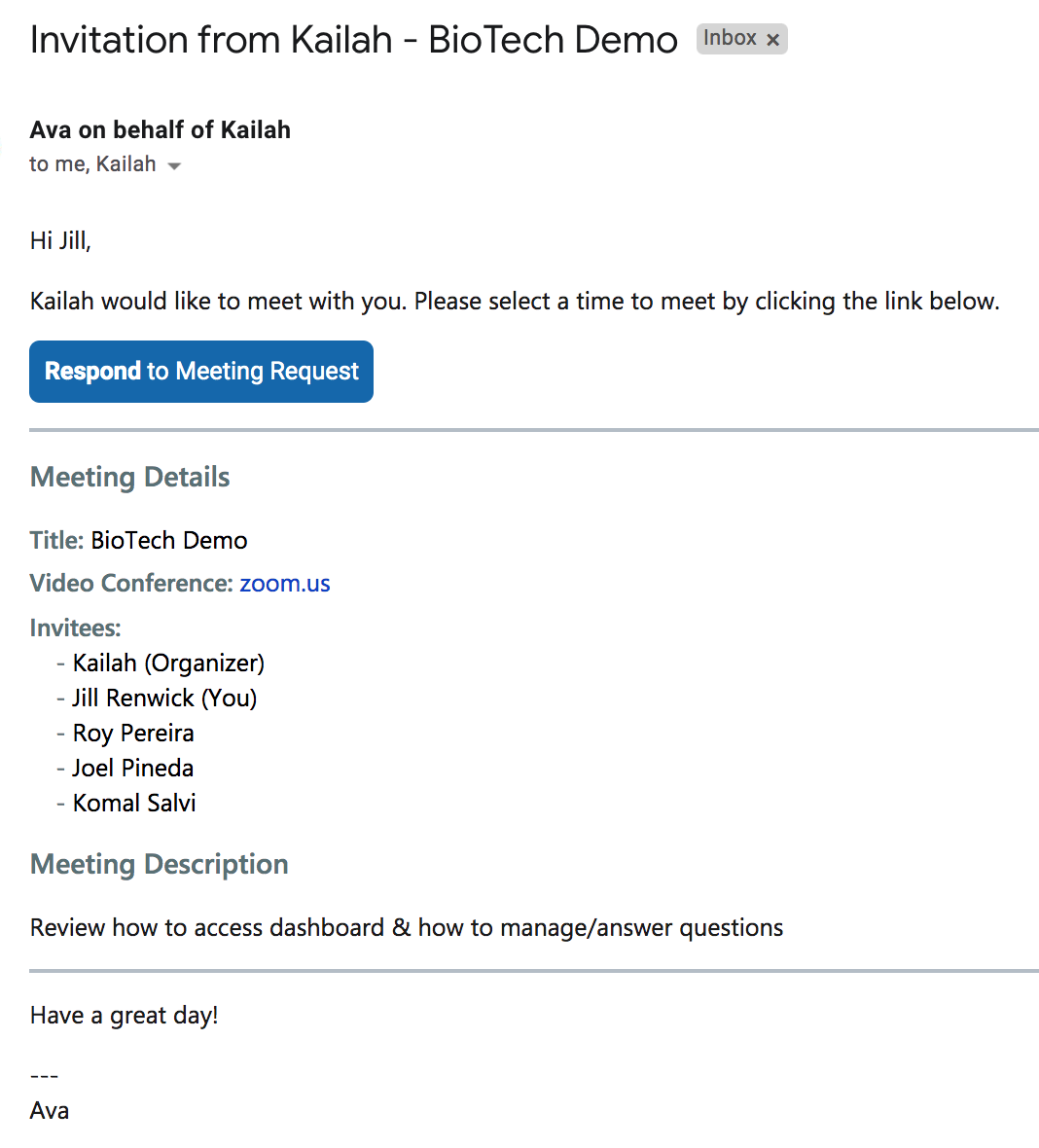 ---

Meeting Acceptance

The Meeting Acceptance page (also referred to as the scheduling page) is where invitees will select a meeting time that works for them. CalendarHero users can customize their calendar view to use a monthly or daily display.
Invitees will always select a time based on the meeting creator's availability (or based on shared availability if enabled). Remember, CalendarHero never shares the personal details of your schedule with invitees, CalendarHero just shows your availability - by automatically syncing with your calendar(s) for up to the second information, and considering any meeting type settings that impact availability preferences.
The meeting acceptance page is mobile-friendly so invitees can select a time right from their smartphone if preferred.
Timezone: To make sure the times offered are relevant to your invitee - the timezone display is automatically detected based on the invitee's location and browser settings. An invitee can also easily manually override the timezone if needed using the dropdown at the top right).
Language: The meeting acceptance page (which is where your invitees select a time) is currently available in six (6) supported languages. Language is auto-detected based on browser settings or can be pre-set in the meeting type settings. An invitee can also select any available language using the language selection at the bottom of the page.
Time Format (12 vs 24 hours): For English, times will automatically display in the 12-hour clock format. For non-English languages, times will automatically display in the 24-hour clock format. (The same time format will also be used for notifications sent to users who interact with non-English languages).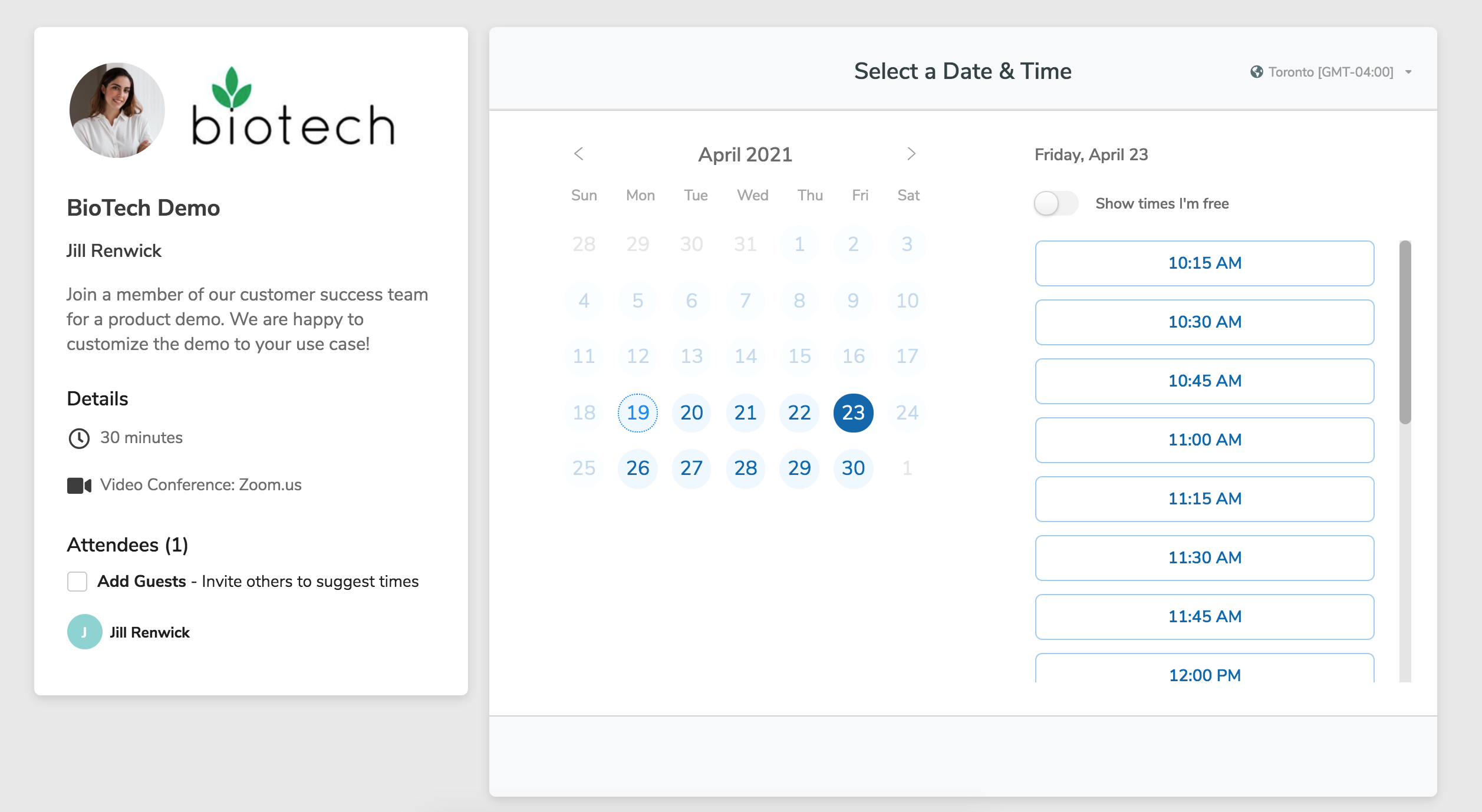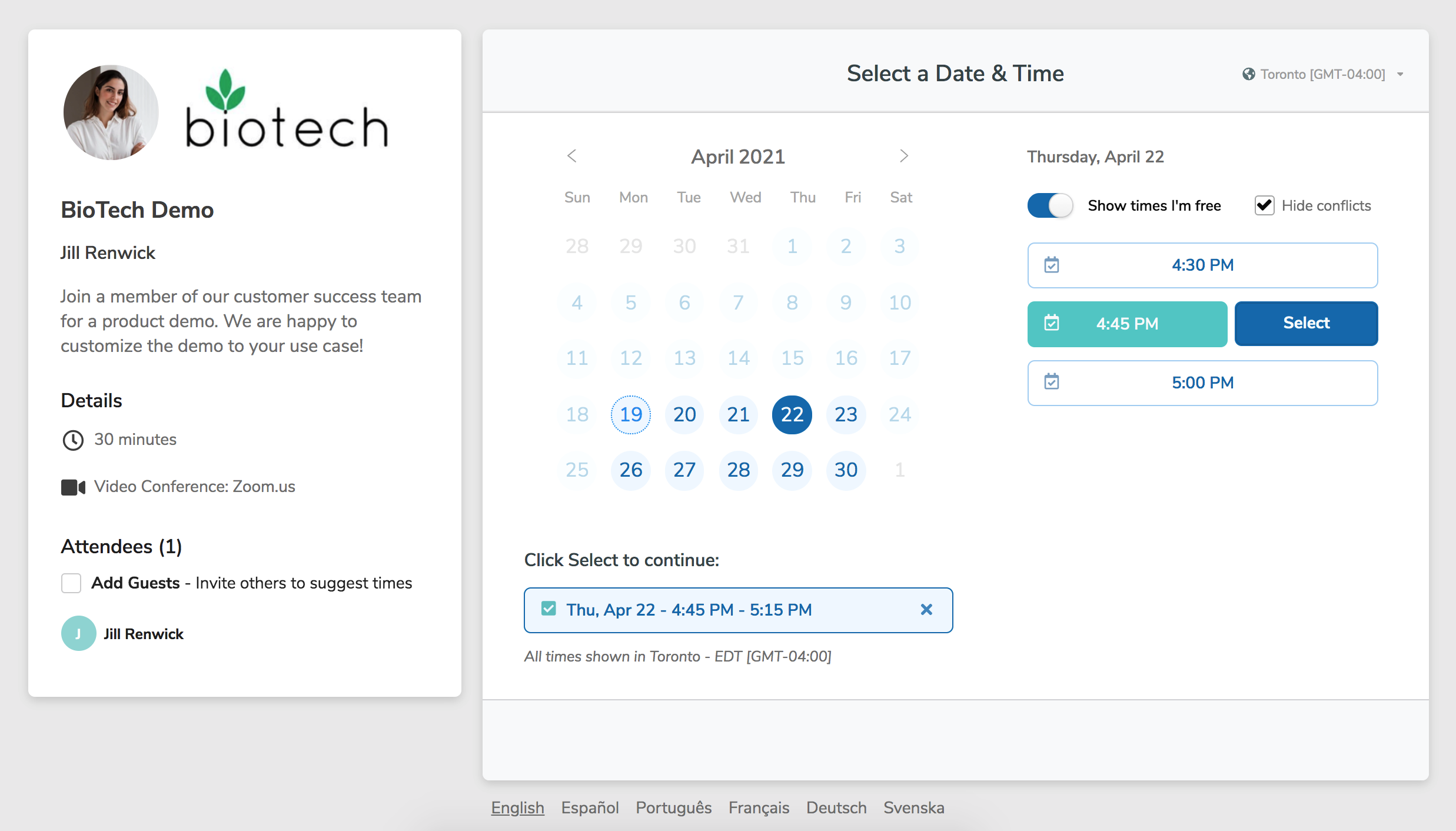 The Meeting Acceptance page includes an overview of all the important meeting details added when creating the meeting or setting up the associated meeting type. This includes:

1:1 Meetings:

If the meeting is 1:1 then invitees simply select their preferred date and time. Once they click Confirm the meeting will be scheduled and a calendar invite is sent to both the meeting creator and the invitee with all event details.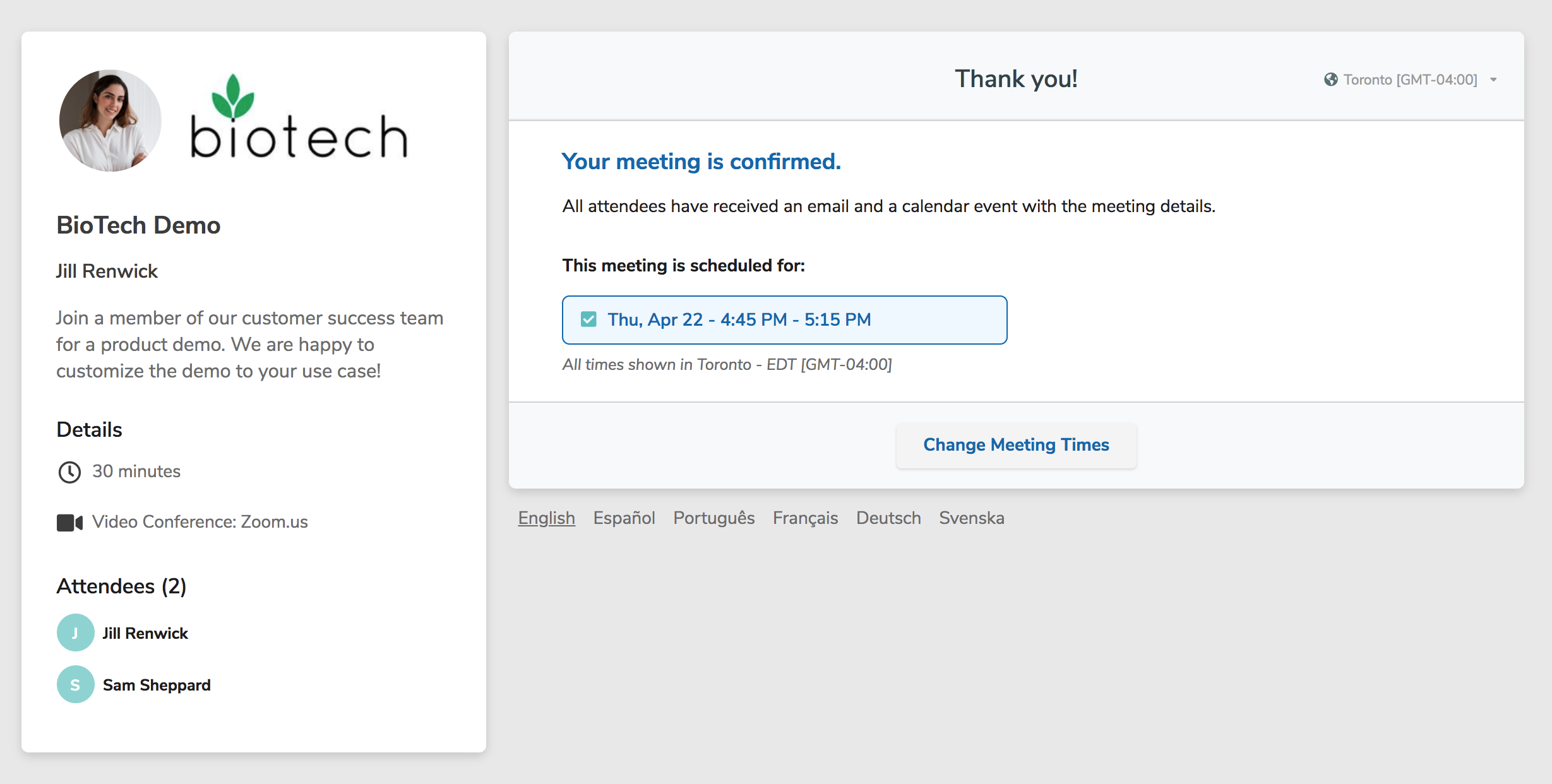 Group Meetings:

If you are organizing a group meeting (more than 2 attendees) then invitees will be asked to suggest at least 3 times that they prefer to meet. (While CalendarHero encourages invitees to select multiple times, it does not force them to).
Meeting invitees will automatically be alerted to times that other invitees have already suggested so that the meeting is more likely to be scheduled for a time that works for everyone.
Once an invitee suggests times and clicks "confirm" the meeting vote is recorded. CalendarHero's intelligent scheduling algorithm ensures the meeting is booked when enough invitees have selected a time, and at a time that works best for all invitees (this is part of the scheduling AI that makes CalendarHero so intelligent). If any meeting attendees are already CalendarHero users (for example in the same Team plan) or CalendarHero has access to an attendee's calendar availability then the group meeting may be scheduled without requiring them to vote on a preferred time - in order to book the meeting more quickly.
As soon as the meeting is scheduled an email confirmation and calendar invite are automatically sent to all meeting invitees with all event details.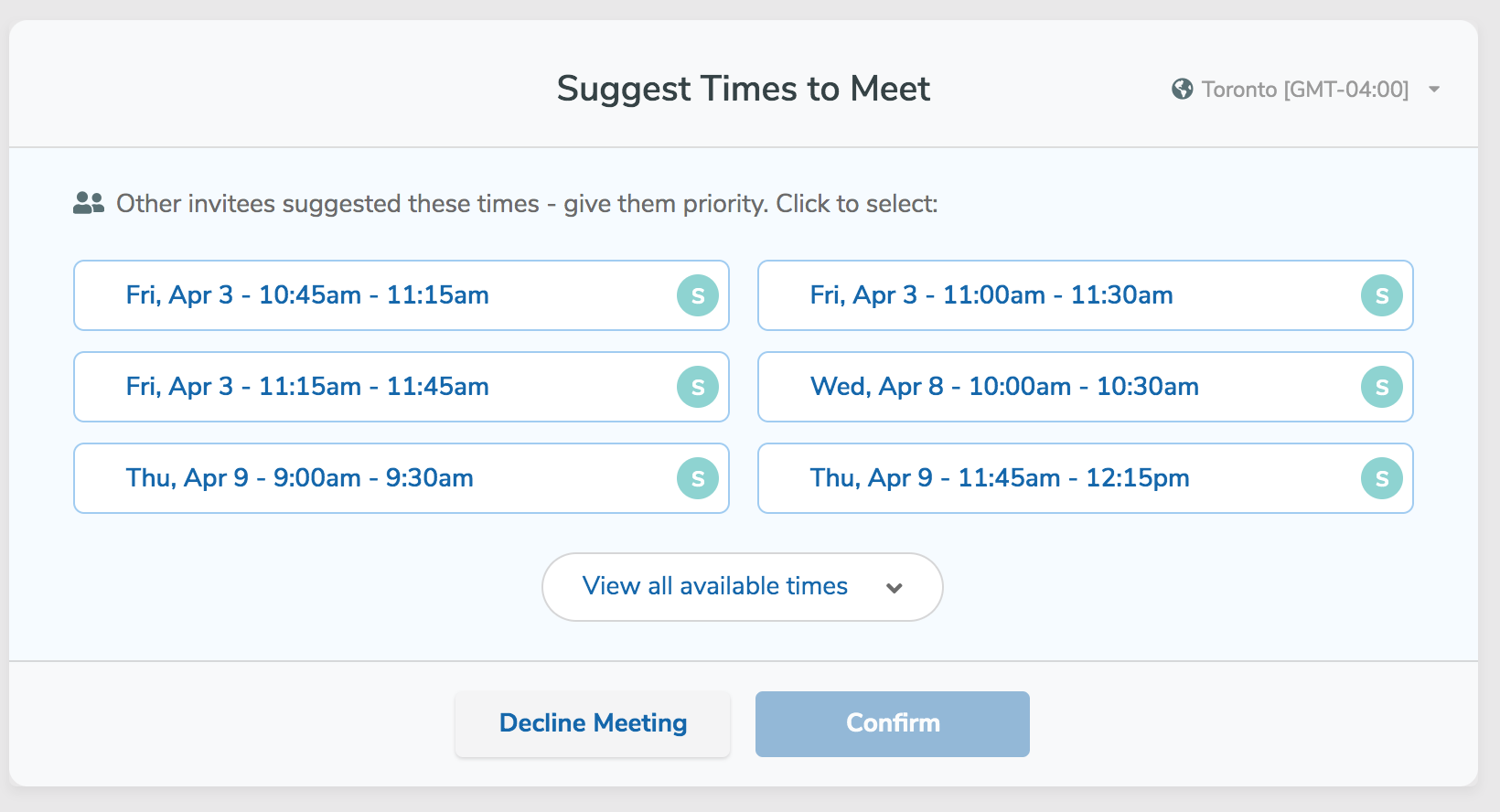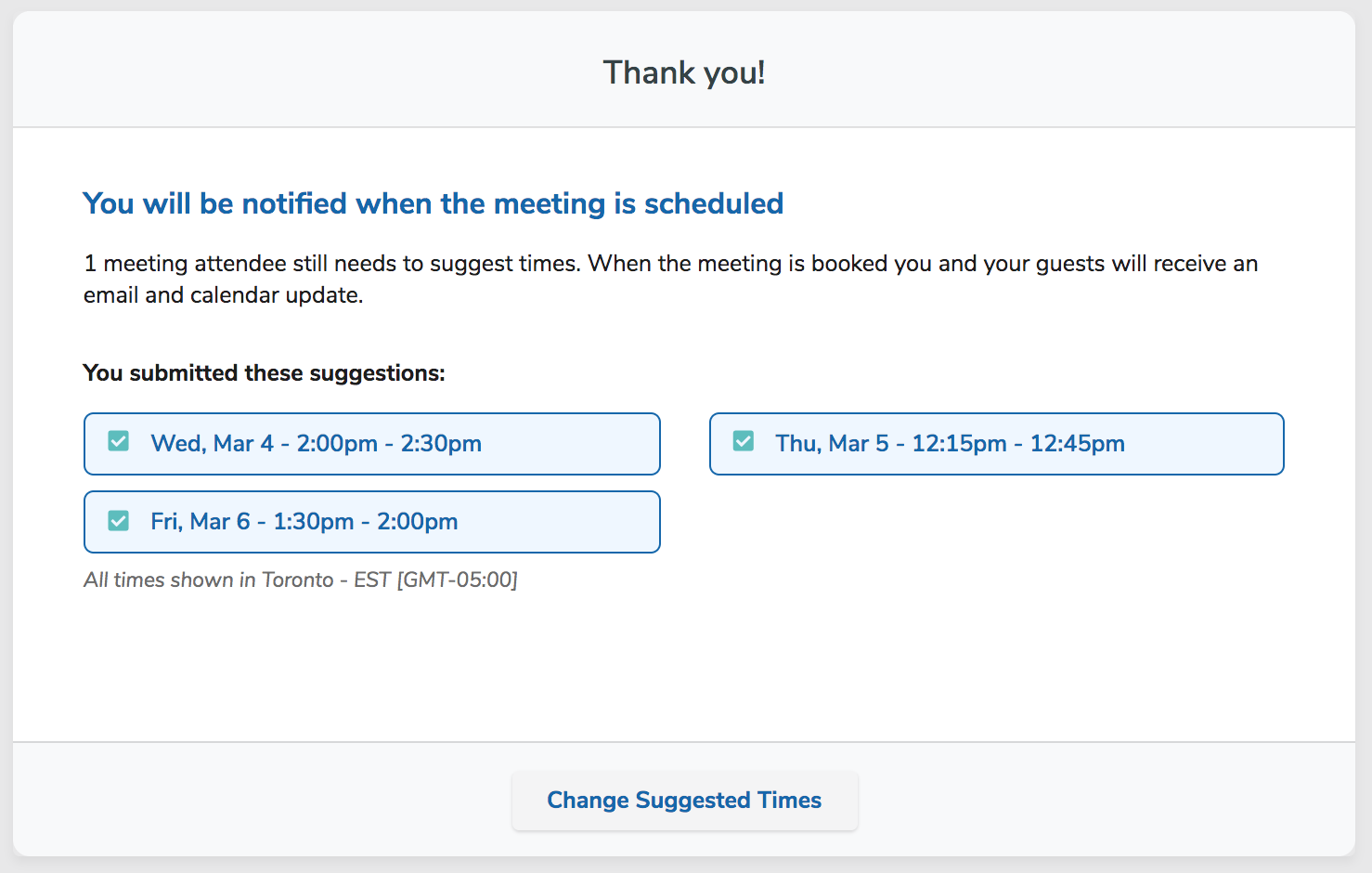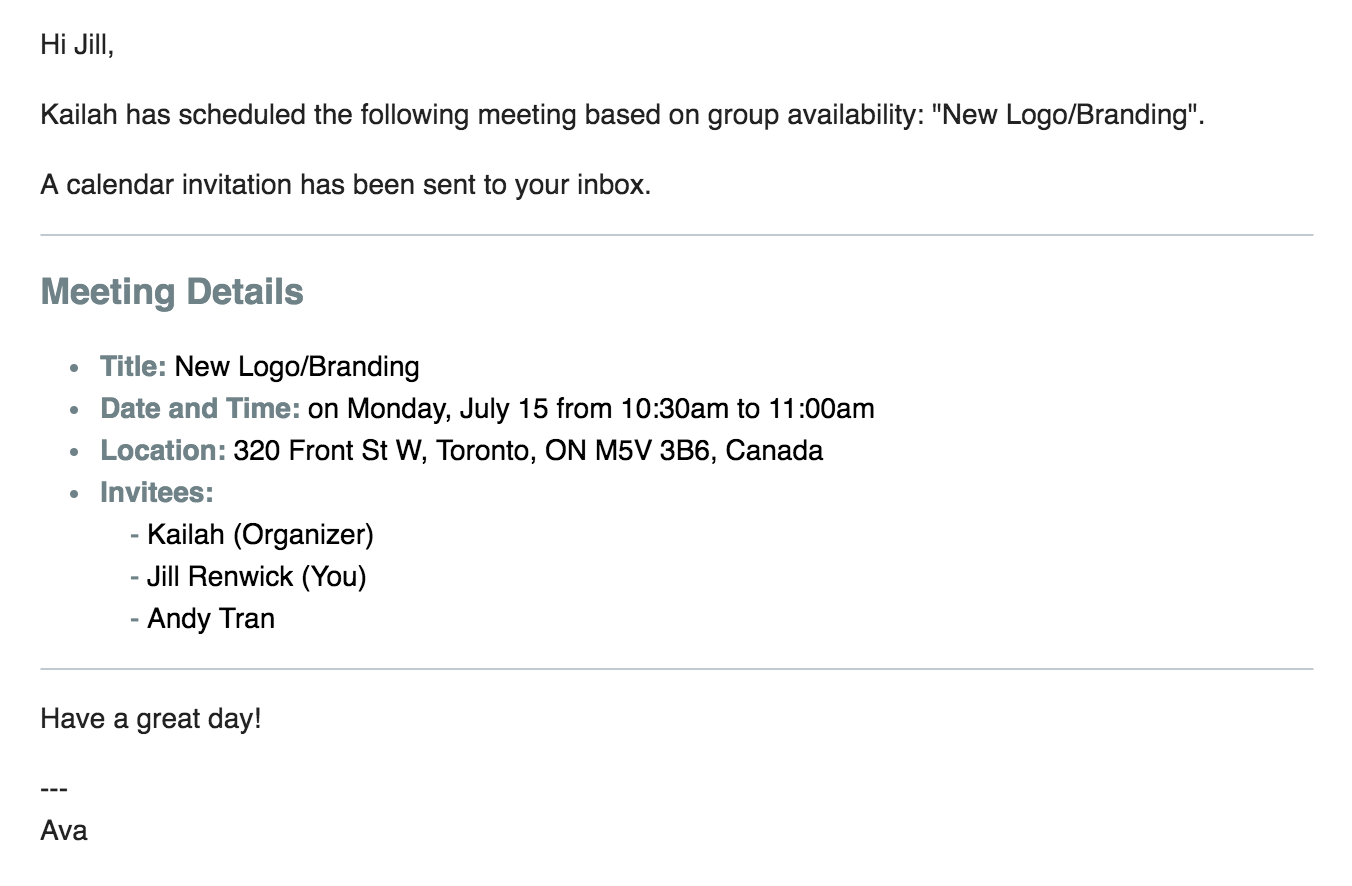 ---

Private Calendar Sync

Invitees who use Google or Microsoft Calendar can choose to upload their own calendar so that they can easily view conflicts between your schedule and theirs. This private sync will display their personal availability and any scheduling conflicts and helps invitees confidently select a time to meet without having to leave the page to check their availability on their native calendar.
For privacy reasons, the synced results are only visible to that specific invitee and not the meeting creator or any other guests. Syncing for external users is only used for that session and is not stored by CalendarHero so they remain private to the invitee.
Hide Conflicts can be toggled on / off and allows users who upload their calendar to hide any times that conflict with the meeting creator's schedule. They can also choose to turn this off and show their full calendar if they want to override an existing event.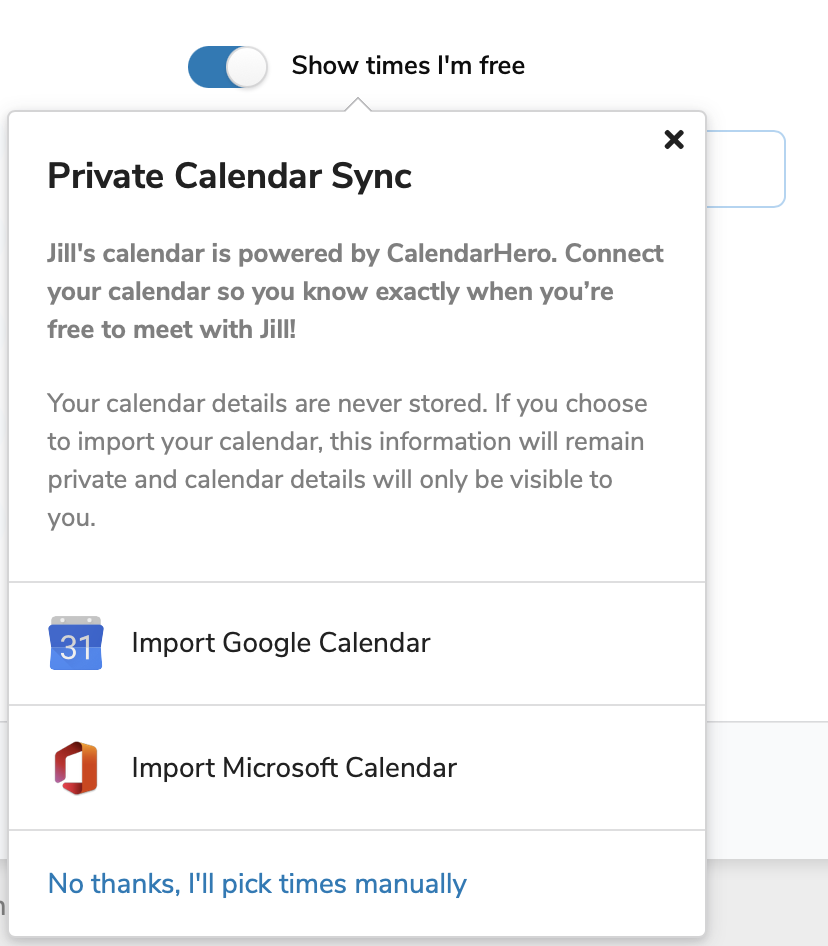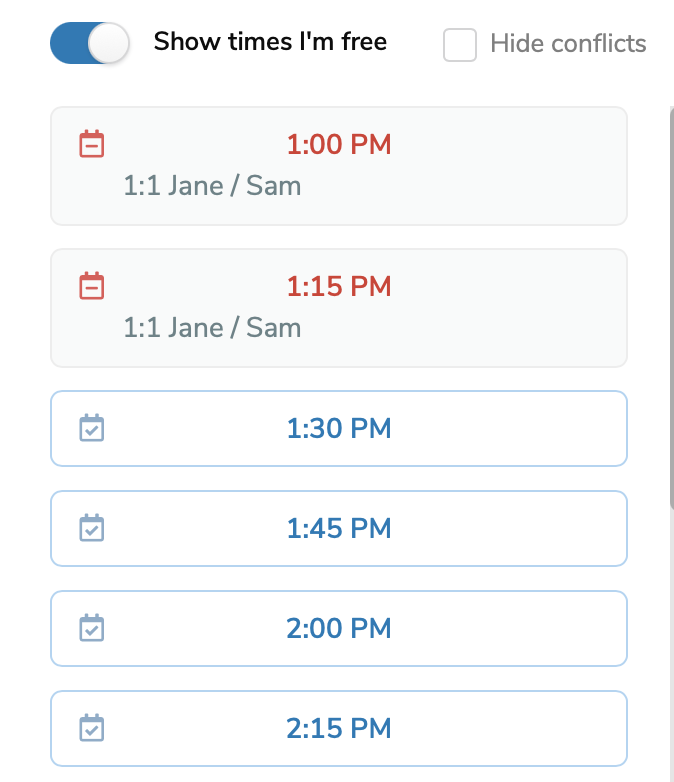 ---
Invitee Decline
If needed an invitee can easily decline a meeting by clicking the "Decline" button on the bottom of the meeting acceptance page. Once clicked invitees will also be prompted to include an (optional) reason why they declined. Learn More
---
Meeting Follow up

Reminder to Respond: If the person you're inviting to a meeting forgets to select a time after the first invite email, your assistant will kindly (and automatically) remind them up to four more times. Based on user feedback we follow a smart notification protocol to ensure invitees are reminded - without being sent too many notifications, which may overwhelm or annoy. Learn more
Task Management: Meeting Creators can view and manage all their pending and complete scheduling requests from Active Tasks. This includes the ability to view which invitees haven't yet selected times, to use the Find Times feature to book the meeting based on available data (even if not all invitees have responded), and the ability to reschedule or cancel meetings. Learn More
Find Times: During an active meeting request, CalendarHero can intelligently suggest the best times for the meeting to be scheduled based on the existing information (even before all your invitees have suggested times). Learn More
Upcoming Meeting Notification: CalendarHero automatically sends an Upcoming Meeting reminder via email to your meeting attendees prior to the meeting. This includes all meeting details. Learn More
---

Customization Options
Pro and Team plan users can customize the acceptance page with their own logo and/or profile icon. Learn more about adding custom branding

The meeting instructions can also be customized for each meeting type.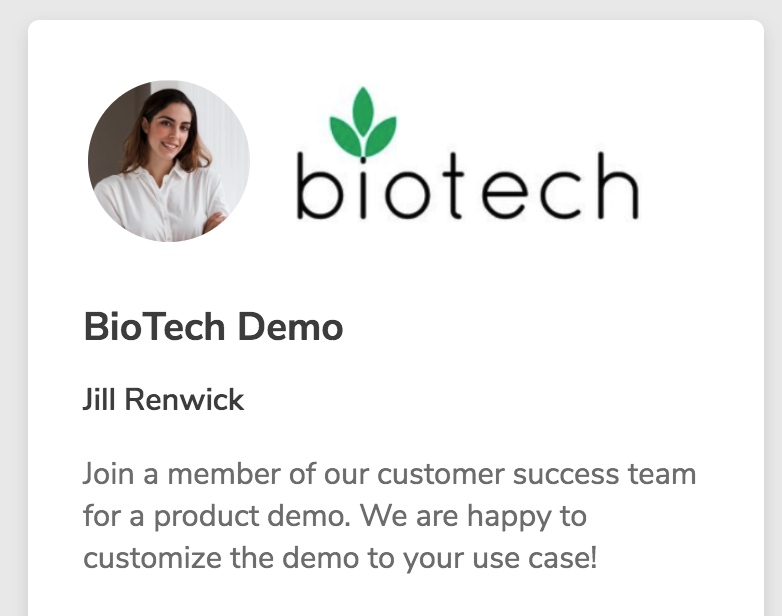 ---