Finding a space to meet in a busy office can be a real hassle. CalendarHero's Room Booking feature quickly integrates with MS Rooms, Google, Zoom Rooms or Robin to allow users to automatically book a meeting room based on specified capacity when the meeting is scheduled.
Sometimes not only do you want to make sure you have a room for your meeting, but you also have a favourite room you want to prioritize. Maybe it has the most sunlight, is the closest to your desk, or has a resource like a large whiteboard that you would prefer for your meetings. Whatever your reason CalendarHero also offers you the ability to set your favourite rooms.
Best of all Room Booking works in addition to video conferencing - so if needed you can automatically book a physical room for those in the office PLUS automatically add conferencing for external clients or those working remotely!
Room Booking is only available for Team Plan users. Before users can request a room a Team Plan Administrator must add a supported room provider. Learn how to add a room provider here.
---

How to Request a Room
CalendarHero makes it easy to request a room on the fly when requesting a new meeting using web or chat or to automate this setting using your powerful Meeting Types. First, ensure you have added a room provider.
Set at Meeting Type
Once you have added a room provider then you can set the room capacity in your meeting type. This makes it easy for you to automate your room booking. For example, if you and your colleague always need to book a room for 2 in your office for your sales demos - then simply set your capacity to "2" for your Demo meetings.
The Meeting Type setting is available under Location & Conferencing. Simply select "Room for #" based on your required capacity for the associated meeting type. A room with the required capacity will be automatically booked when the meeting is scheduled.
If the room booking requirements change per meeting then we recommend setting room booking during a meeting request - see the next section for details!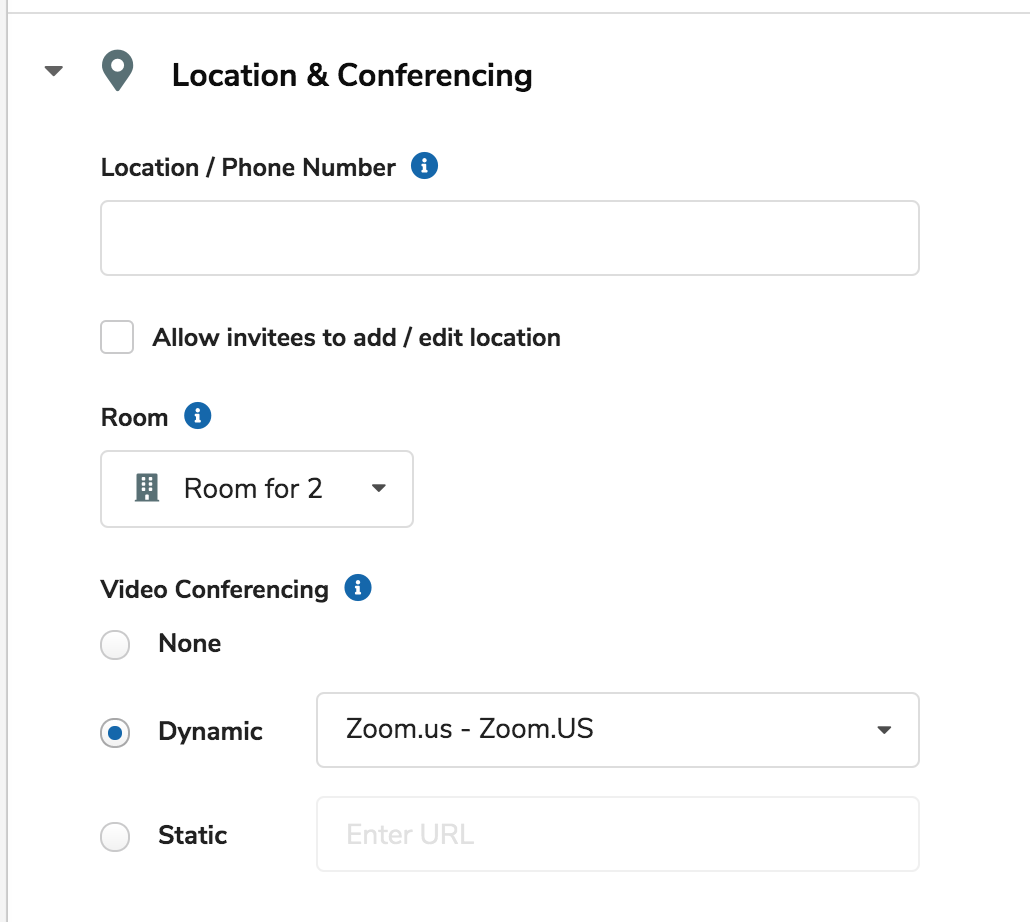 During a Meeting Request
During meeting creation, you can simply ask to include a meeting room when creating the meeting. Please note that you first must integrate your room provider before you request a room.
If you are using the CalendarHero web scheduler you can specify the capacity (e.g. Room for 5) by using the Room dropdown on Step 2 - Details. A room with the required capacity will be automatically booked when the meeting is scheduled.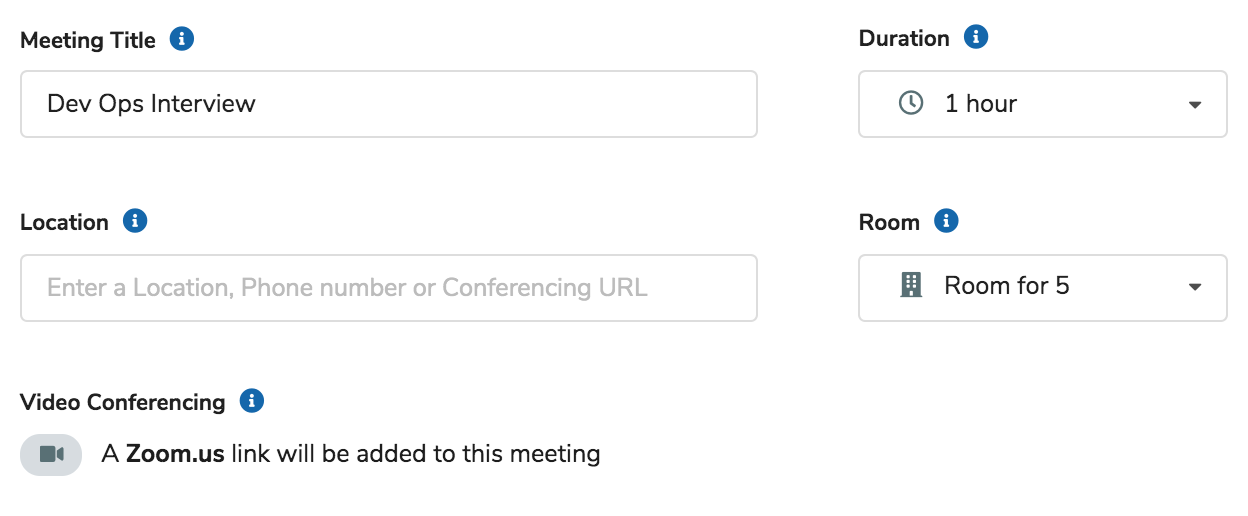 If you are using CalendarHero with a Chat platform like Slack or MSTeams:

Say "Add a room for x" and state the room capacity you need. For example: "Book a meeting next week with Roy, Anita and Paul. Add a room for 3." A room with the required capacity will be automatically booked when the meeting is scheduled.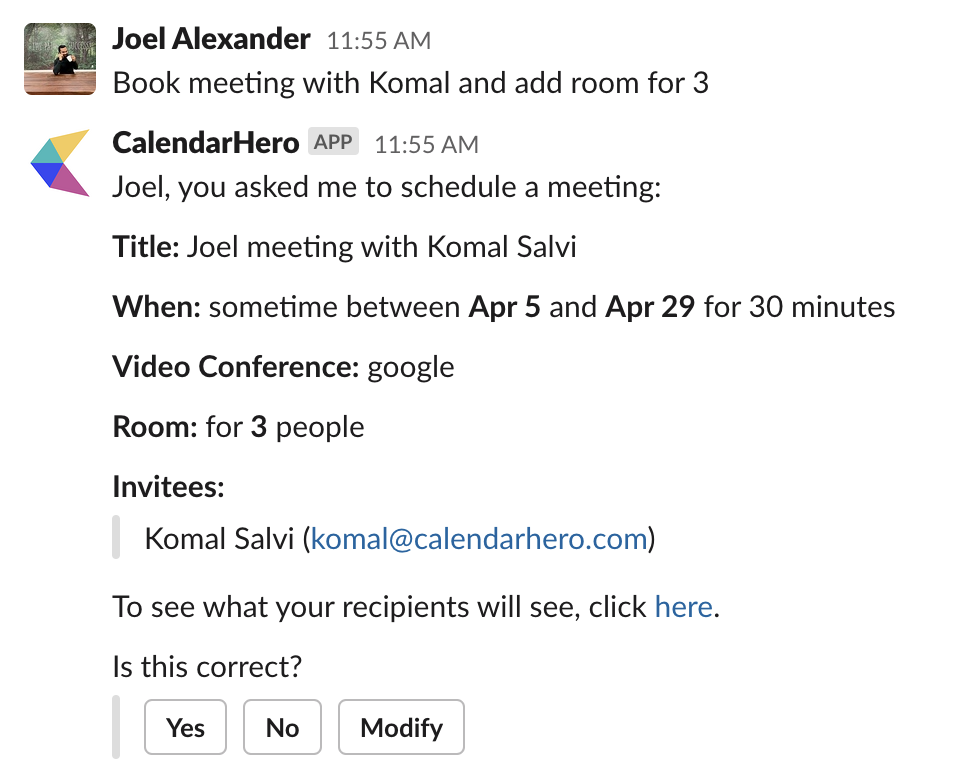 If the meeting is with internal colleagues only - then when time slots are initially suggested, room options will also be presented for visibility.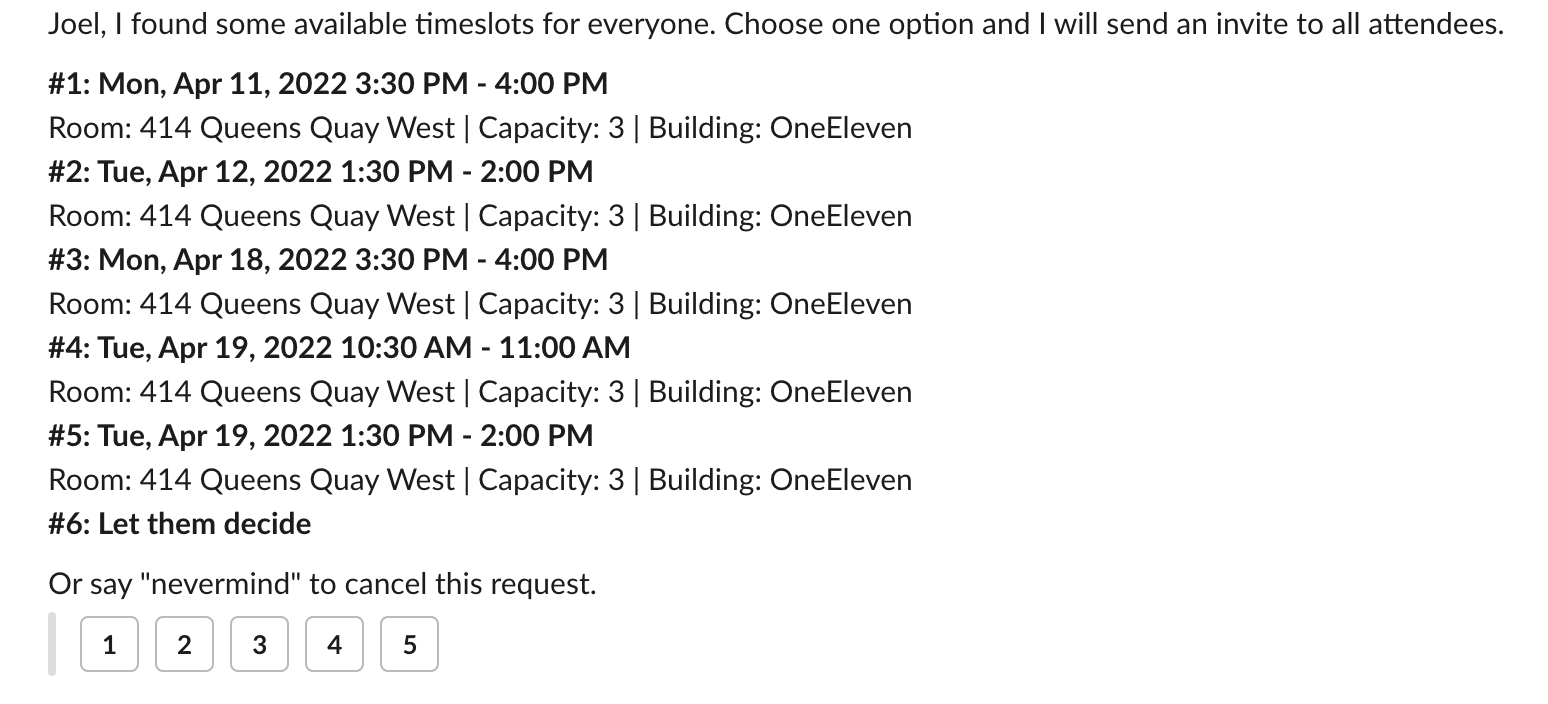 Current Chat Limitations:
Capacity currently only handles 'digits' e.g. "5". You can't type "five" for now.
You can't request to book a particular room - e.g. "Book the Executive Boardroom" (but you can favourite rooms when you set up your room provider)
---

Calendar View

Once a meeting room is successfully booked it will appear on all attendee's calendar. The exact display is dependent on the 3rd party room/calendar provider.
For Outlook: the room appears after Location: Location, Room
For Google: the room appears under resource (building icon)
For Robin: the room appears under Location
---

Meeting Room Settings

Once a room provider is added, individual users within a Team plan organization can set their room preferences available from Settings Meeting Room Settings: https://app.calendarhero.com/settings/rooms. From this page, a user can specify Location/Buildings and Favourite Rooms.

Location/Buildings is useful if you work for a larger organization and have rooms across a building, or even on a campus. You may want to only meet in the meeting rooms closest to your desk and omit others too far away.
Favourite Rooms allows you to specify your preferred rooms (from the list of all rooms) so that CalendarHero can offer rooms more applicable to your personal preferences. You can order your favourites by clicking the up/down arrows - with favourites at the top being selected over those below. Your favourite rooms will be selected based on the order if they are available at the time the meeting is scheduled. If none of your favourites are free then CalendarHero will automatically select another room matching your required capacity. This way you ensure you always have a room available come meeting time!
Use the "search a room" box to find your favourite rooms
Then specify the order of your favourite rooms