Create your own automated tasks inside CalendarHero.

Custom Applications and extensions make it easy to extend your CalendarHero assistant's skills with other 3rd party software. They allow clients to easily build workflow expansions. If you're an organization that relies on a host of applications to perform your day-to-day tasks and are experiencing an overwhelming amount of task-switching, this is the right feature for you.
CalendarHero supports Zapier, Microsoft Flow, and Workato (scroll to learn more)
Individual users can add a custom application here: https://app.calendarhero.com/settings/integrations/list
Team plan users can add unlimited custom applications. Team Admins can add a custom application
---
Microsoft Flow
Click here to learn about Microsoft Flow integrations

Zapier
Zapier (https://zapier.com/) is a powerful tool used to connect all your apps, improving and automating your workflow. We've connected the power of Zapier to CalendarHero (formerly Zoom.ai you can create up to 5,000+ different flows all within your favorite chat platform. In just a few steps, you can connect to over 1,000+ apps and easy integrations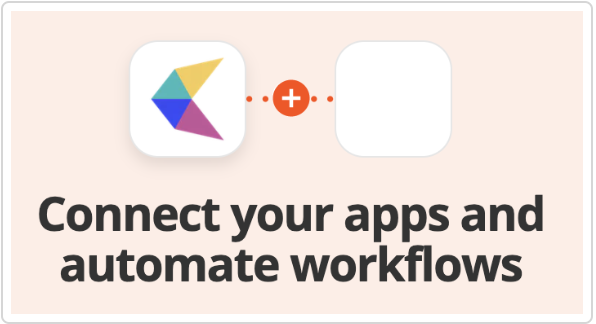 Zapier App

CalendarHero users can add the CalendarHero Zapier app here: https://zapier.com/apps/zoomai/integrations
Actions that you can do with the CalendarHero Zapier app:
create a meeting request
create a contact
find contacts
get contact insights
get your meetings types
You can also be notified when an event happens in CalendarHero and then take action on another software:
the meeting request was successful and a meeting was scheduled
meeting request expired without a meeting being scheduled
you created a new meeting request
a new contact was added to your scheduling link
Zapier Zaps
Activate Zapier Zaps to streamline repetitive tasks like:
Add contact to CRM
Create new opportunity
Create a follow-up task in CRM for X days out
Log call notes
Step-by-step on integrations:
Click on "+";
Create a name (Translate, for example);
Link your Zapier integration;
Set the parameters (questions to be asked by your assistant);
Include your Webhook URL - provided by Zapier webhook from your Catch Hook trigger;
Test it;
Hit "save" in the right-hand upper corner;
While in chat, say "run translate";
Follow the conversation and it should run correctly.
Zapier integrates with apps such as JIRA, Quickbooks, Google Sheets, Google Docs & many more! Coupled with CalendarHero, this integration functionality will connect you to the apps you use every day. Contact us to learn more about how to use Zapier and CalendarHero together.