CalendarHero users can specify buffer time to automatically ensure there is free time available before and/or after the scheduled meeting. This is a great feature to allow time for:
meetings that run long - such as client or VIP meetings which don't always have a hard stop
to prepare for a meeting, set up the room, or greet a client in the lobby
to document the meeting, discuss the next steps internally, or send follow-ups while takeaways are fresh in your mind
to take a breather in between meetings
to account for travel time to get to another physical location (like a meeting room on another floor)
---

Setting Buffer Times

Buffer Times can be enabled from any of your Meeting Types (under Availability settings). You can choose to set a buffer time before and/or after the event. When enabled the set time will automatically be considered when your real-time calendar availability is offered to your invitees. For example, if you set your buffer time before the event to 15 minutes then your invitees will only be offered time slots where there is 15 min available before that meeting start time.
Buffer time set in CalendarHero is invisible to your invitees and will not be added to the meeting time, nor will it appear in your synced calendar (for example your Google calendar).
Rescheduling: Buffer Time will automatically be moved if you reschedule your meeting using CalendarHero. If you change the meeting type buffer time this new time will be honored when the meeting is rescheduled.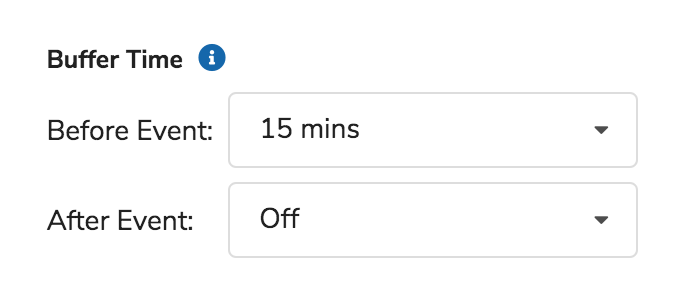 More Info:
If you have integrated meeting room booking, the room booking duration will be based on the duration and time of the meeting. Buffer time is currently not added to the room booking length.
Want to add the minimum amount of time before a meeting can be scheduled? If so you will want to add Lead Time instead.